To help keep rates affordable, we are asking those willing to ride together to do so. Starting April 1st, 2022 there is a single-rider surcharge that is the equivalent of a green fee.
November 4, 2022 – December 16, 2022
Week Day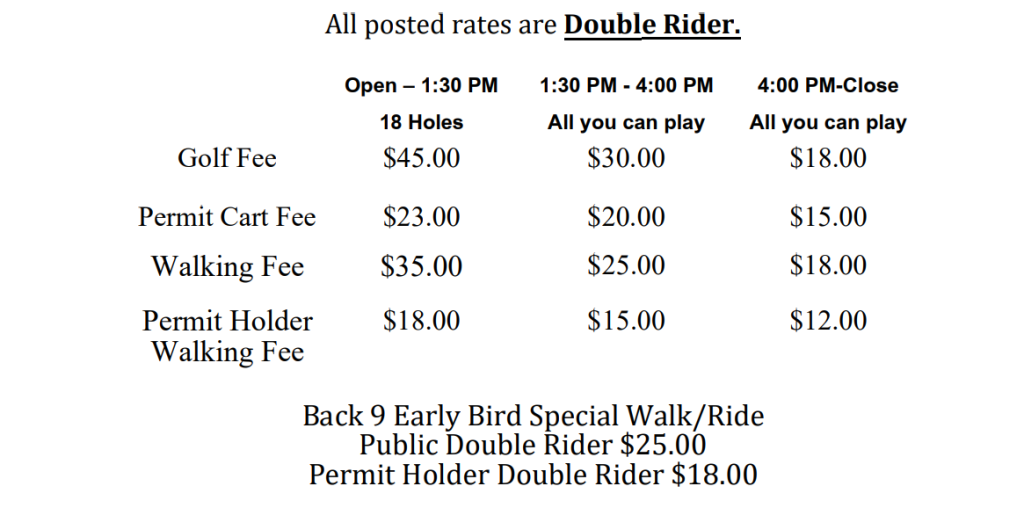 Weekend

RATES DO NOT INCLUDE SALES TAX.
• Tee times can be made 5 days in advance.
• Premier Loyalty Card Holders receive 20% off applicable golf rate.
• Loyalty Card Holders receive 10% off applicable golf rate
• City of Delray residents with a valid City Resident Card will receive a 5% discount
off applicable golf rate.
• Percent off discounts cannot be combined and are not offered on single-rider
surcharge or permit holder fees.
Rental Sets
Rental sets are Wilson Clubs, and are $20.00 for 18 holes, and $10.00
for 9 holes. Both men's and ladies sets are available.